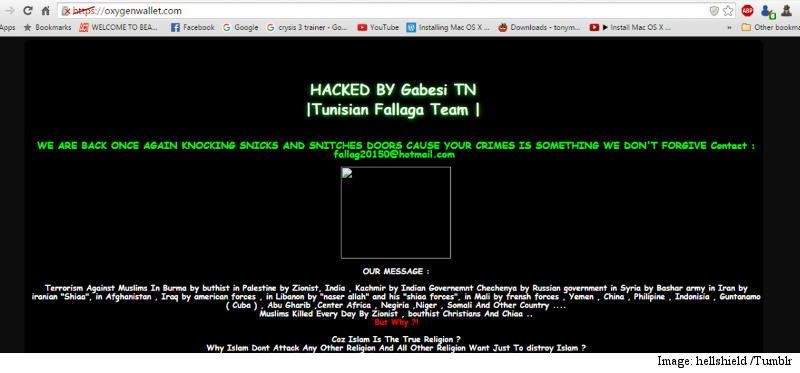 A hacker group by the name of Tunisian Fallaga Team allegedly hacked Gurgaon-based prepaid wallet website Oxigen Wallet on Saturday through a shell injection on the site's blog.
The Hell Shield Hackers blog has documented what allegedly transpired last weekend – and has posted screenshots as proof of the hack.
Oxigen Services Pvt. Ltd owns both the domains for www.oxigenwallet.com andwww.oxygenwallet.com, and the latter has been screencapped by the hackers.
Interestingly, the blog was down on both the domains at the time of writing.
We ran the post through a couple of security experts, Prateek Shukla, a Kolkata-based cyber-security expert and published author said that the hackers seem to have performed a shell injection. "In this method, the hacker uploads a shell (a PHP script) onto the website, and gets access to the server. Its basically a backdoor entry for hackers," he said.
Another hacker said that he couldn't figure out how the alleged exploit was made, and wasn't able to ascertain the legitimacy of the claim.
A spokesperson for Oxigen wallet denied any incidence of the hack, and said that the blog is undergoing maintenance.
Oxigen Wallet offers a smartphone payment app for consumers, users can top-up money and use it for mobile data recharge, DTH and data card recharge, bill payments and money transfer.