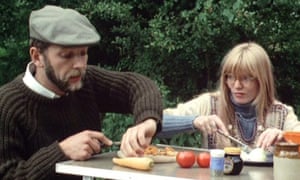 They have more than a whiff of Mike Leigh's Candice Marie and Keith about them. But Gallic. They wear outdoor gear indoors. They have a mountain of rucksacks and hiking boots, as well as a truly horrible contraption that looks as though it belongs on a medical ward; a sort of reinforced plastic bag with tubes coming out of it that they fill with water every morning, which allows you to suck the liquid without using your hands.
Jean-Claude and Yvette are from Alsace and treat every day of their week-long stay as an endurance test. Each morning they make a packed lunch with grim determination not to spend a penny on anything as trivial as a bought sandwich. They fold up the used butter wrapper and put it back in the fridge, for what possible use I can't imagine.
One day, they ask me to cook a typical British evening meal for them.
Toad in the hole? Le rosbif? Spotted dick? Curry?
"Er, yes, of course," I say brightly, inwardly dreading it. They are non-chatty, non-verbal and non-fun.
I settle on bangers and mash, with onion gravy, followed by plum tart and cream. That evening we eat dinner together. They scoop up the mash and gravy on their knives and slide it sideways into their mouths. As I'm sitting opposite them it's impossible not to look, and it's revolting. They also, quite casually and in silence, lick their plates. I ask them if they've enjoyed their meal. They do that "bof!"thing that involves a shrug with a downward turn of the mouth.
Have they enjoyed their holiday? "Bof!" again.
Why have they come here?
Jean-Claude and Yvette exchange glances. Slowly, Yvette unzips her hoodie and Jean-Claude pulls up his trousers over his shins. She reveals a T-shirt with a sonic screwdriver on it, and glancing down I see that Jean-Claude is wearing Dalek socks.
That's it. Conversationally we're off at last. The merits of David Tennant v Matt Smith become heated. No more "bofs" but even a few smiles now.